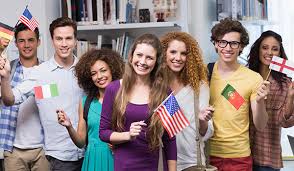 Open your home to students from other cultures and help them adapt to the Canadian lifestyle.  Students from around the world will choose the beautiful and pristine northwestern BC as a study destination with Coast Mountains School District or Northwest Community College.  Students will experience a personalized high-quality education while enjoying the local culture, discovering the great outdoors, hands-on natural resources and the safety and friendliness of smaller communities that will enhance their learning and development of the English language.
High school and college students may choose to participate in the Homestay Program to learn about Canadian culture and practice their English in the world's greatest classroom, your home.  You will not only give a student the chance to experience daily life in Canada, but you will also provide yourself and your family with an opportunity to learn about another culture without having to leave your home.
We would like to welcome you as part of the Homestay Program.  The Homestay Program is a very important component of the school district's and college's International Student Program.  The Homestay Program is run jointly between Coast Mountains School District and Northwest Community College and is not a private business.  School district and college staff are committed to providing a safe, quality homestay for each visiting international student.  All home families will be screened with a criminal record check and their homes will have been inspected to ensure high quality, safe, and welcoming environments.
Most students are leaving their families for the first time when they study abroad.  Hosts welcome them with an open heart, treating the student as a member of the family while supporting their academic progress.  English must be the language spoken at home.  International students are provided with:
A welcoming and friendly environment.
Caring host parents.
A private bedroom, which includes a comfortable bed, study table, and lamp
Bathroom and laundry facilities
Three substantial meals a day and plus healthy snacks
Transportation to and from school if required
Airport pick up and drop off if required
International students will provide the specific requirements for a homestay family.  Once a family is selected, we will email a profile with pictures and contact numbers/email address, so that new students will have more information about their host family and will be able to make initial contact prior to arrival if desired.
By inviting a student into their lives, a host family experiences new and exciting family dynamics.  They also learn about other cultures and traditions.  Hosting often leads to the development of long-term relationships, with the host family visiting their student in their home country.  Students will need both short and long-term homestay experiences.  Reasons to become a host include:
Experience new and exciting family dynamics
Help a student adapt to the Canadian lifestyle
Connect your family to the world
Learn about other cultures and traditions
Build lasting friendships
Be involved in your community
Families, couples, empty nesters and singles can become a host.
A monthly homestay fee of $800 will be paid by the student's family directly to the host family.
Coast Mountains School District or Northwest Community College will provide orientation and ongoing support for students participating in the Homestay Program.
The Ministry of Education of British Columbia has recently published guidelines regarding homestay for Kindergarten to Grade 12 international students. International student parents/legal guardians, international students, agencies, current host families, and potential host families can learn more about these guidelines and their responsibilities by accessing the document online, downloading, or printing the document.
Local families interested in learning more about our Homestay Program should contact our Director of Instruction for School Support, Janet Meyer at (250) 638-4480 or by email at study@cmsd.bc.ca.
Access the Application Process to become a Homestay Family Host.
Help us share our true regional hospitality by becoming a Homestay Family.  You can play an important role in making the international student's experience one they will never forget!